Top-Notch Virtual Training Content Providers
If you haven't noticed already, virtual training content development is on the rise. The COVID-19 pandemic has changed corporate training and team management by giving us a glimpse into the future. The recent events are reviving the need to explore online learning opportunities and remote working solutions. Your organization should be too.
Apart from affecting our everyday lives, Coronavirus has significantly altered the way businesses operate. Now is our chance to show that we can adapt and be resilient.
In this state of emergency, organizations must react in different ways to overcome such challenges.
All of us need to adapt to the new reality by including solutions for remote work policy, online learning, virtual meetings, or even online shopping. However, no matter your industry, it is time to act fast without compromising the quality of your online training delivery.
Check the eLearning Industry's top eLearning companies for virtual training programs list to:
Solve distance learning issues for your remote teams
Increase convenience and flexibility in your employee training plans
Focus on customer training to ensure satisfaction and retention
Boost participation and engagement when training your remote workforce
Get immediate feedback and insights to improve your online training courses
Compare eLearning companies for virtual training
Find the right content provider for your business needs
Discover The Ideal eLearning Company For Your Training Content Needs
Save time and money. Compare top content providers tools by topic expertise, reviews, and rating!
In this special list, we've selected the top content provider companies for virtual training programs. Please bear in mind that this list is about virtual training content development experts. For all-around corporate training content, you can check out our vast content providers' directory.
What Were The Criteria That Determined Which Companies Made The List?
Companies around the world are facing a major challenge. There are two questions we need to answer: a) how do you train teams when working remotely? and b) what do organizations need to do when building a strategy for their virtual training programs? This list is a thorough guide that includes our top selected companies for top-quality virtual training content—all in one place.
Globally recognized LMS experts, including C. Pappas, and our editorial team did a thorough review of each vendor's eligibility. By checking each eLearning company's website and relevant published content—articles, eBooks, webinars—we've reached a final conclusion. Our committee ranked the best content providers for virtual training programs based on the following 8 criteria:
Company's economic growth potential
Company's social responsibility
Customer retention
Customer reviews
Employee turnover
Learning industry innovation
Learning solution content development quality
Learning solution expertise
Reading our top list is all you'll need to kickstart your virtual training content development project. Please note here that this list is curated for those who are in search of creating virtual training programs for their remote teams. You may also check out our full eLearning content providers' directory for other types of content development regarding other corporate training use cases.
Before heading to the list, make sure to read our tips on what you need to consider when opting to team up with a content provider for your virtual training strategy.
How To Define Objectives And Goals For Your Virtual Training Content Strategy
Virtual training programs give your learners the freedom to learn at their convenience. This is what makes this a great eLearning solution when you need to train your remote teams. Such training is accessible to all, from employees to external partners to vendors. Virtual Instructor-Led Training (VILT) can provide equal content quality, learning experience, instruction expertise, training results, and an increase in productivity if done right.
When trying to define if your organization is ready for a virtual training program, there are certain areas you'll need to evaluate. At least, this is what most business leaders take into consideration until now. But have in mind that sometimes, certain events call for immediate action and transformation. This is when virtual training might become a go-to solution. So, what do you do then?
Shifting To A Virtual Training Environment
When you have to move your training to a Virtual Training Environment, there are several things you'll need to consider when creating your online training strategy. Before switching to online training, it is key to educate your key stakeholders.
You have to prepare them on how a Virtual Training Environment works. You'll need to demonstrate to the decision-makers of your organization the cost savings and value of a virtual training program. Ensure that your stakeholders realize how virtual training is different from webinars. Explain to them the importance of virtual training labs for a hands-on learning experience. Explore all the reasons why VILT is a good Return On Investment.
However, the most important of all is to design and implement a virtual training program that includes quality content. So, here's where a content provider can help you out. By leveraging SMEs and their expertise, you'll have the chance to create timely training that actually brings results.
Writing Down Learning Objectives And Goals For Your Remote Teams
Writing down the objectives of your virtual learning strategy is one of your main tasks when aiming for success. You'll need to decide which eLearning tools or web conferencing software you're going to use to make your courses comprehensive for your learners.
Learning objectives in virtual training or mobile learning are important for the effectiveness of your project. This will help you and the content provider that you choose to work with to create the best eLearning content for your needs.
Questions You Should Answer Before Deciding On A Virtual Training Strategy
How fast do you want to launch your virtual training program?
What's your online training budget?
What are the must-have elements of a successful virtual training program?
What kind of eLearning content development will you need?
Are you interested in mobile learning or gamification?
How many virtual classes are you planning to offer? To how many learners?
Are you and your team familiar with eLearning authoring tools, LMSs, or mobile apps?
Will multi-language virtual training courses be ideal for your case?
Are your learners going to need virtual training labs?
Describe your expectations and what kind of results you're looking for. Please, be objective and clear. Such objectives might focus, for example, on behavioral changes. Others could deal with skills development, customer training for retention and satisfaction, etc. So, these are actually the results you expect to have for your business growth after the end of the course.
Note that it is better to describe a single result for each online training objective. This is what makes an objective well-written and more effective. Be it a skill you need to develop or a sales boost, your goal should measure your employees' performance.
The Importance Of Virtual Training Content For Your Business
Maybe some of you are looking to increase customer satisfaction and retention, enhance team-building, or focus on product knowledge and sales training. We've got you covered on all these eLearning topics. Virtual training programs can bring evolution and business growth for organizations in any industry. Whether you need to increase employee engagement or boost your workforce's performance and productivity, this is an insightful guide. Focus on what you want to improve and go for it!
Which Organizations Can Benefit From A Virtual Training Process?
Frankly, I cannot think of a single organization that wouldn't benefit from a virtual training program. Times change, as a result, companies worldwide need to go forward and embrace the transition to online training and working remotely. The more technology-savvy your workforce is, the better.
Remote working is getting more and more advocates every day. By leveraging a virtual training process led by experts, as a reliable content provider, you'll be able to effectively establish new online training procedures for your business. This guide is meant to help you understand how collaborating with top-notch eLearning content providers can make your online training bring the results you need.
So, who can reap the fruits of a virtual training process?
Companies that need to rely on virtual training environments
L&D leaders who are looking to rapidly shift to remote learning (ILT to VILT)
Businesses that aim to bring business growth through employee development
Training managers who want to substitute a webinar with a virtual class
Companies that want their instructors to enhance their online presentations
Business leaders who want to create effective mobile learning experiences
Forward-thinking organizations that are eager to include gamification in their training
L&D professionals who have an interest in blended learning, microlearning, or video-based learning
Training managers who want to implement immersive learning, but don't have the means to do so
What Makes Virtual Training Content Effective?
Content is king, not only for content writers and marketers but also for deploying a successful virtual training program. What would your corporate training be without good eLearning content? Simple answer: not good.
Having the ideal LMS for your virtual training process is only the tip of the iceberg. You need to fill your LMS with quality virtual training content. Otherwise, you won't meet the outcomes you so much desire—no matter how amazing your LMS platform is.
Or maybe you rely mostly on mobile learning, and you need the right content to keep your employees and customers engaged. Still, you have to focus on providing quality eLearning content in your apps.
eLearning Content Development Best Practices
Your eLearning Content Should Be Consistent With Your Online Training Goals
You've set your business goals and online training objectives. Kudos to you! Sure, you can leverage a course authoring tool to create your online training program. But do you have the resources or the expertise to do it? Does your team include SMEs on a specific subject? In case your organization lacks the time or resources to build your own online courses, worry not.
There are several solutions when it comes to eLearning content creation. For example, one step you can take is to purchase online courses from a course library. Or for a more effective approach, you can request insights from a custom eLearning content development company. This can lead to creating custom eLearning content tailored to your online training needs.
Your Online Training Content Needs To Be Up-To-Date
In order to launch and maintain an effective virtual training program, you need to fill it up with engaging online training courses for your workforce. Your eLearning courses have to be up-to-date to deliver the results you need. If you have the team capacity to build your own online courses, that's great. If you don't, you should assign this demanding task to an expert content provider based on the topic that fits your needs.
Remember To Do Your Online Training Evaluation Regularly
If you want your online training content to be effective, you have to make it agile. The best way to accomplish this is by keeping evaluating and testing new procedures to ensure good results. Also, try different ways to assess if your learners meet your online training objectives. For example, when each training session finishes, you can use quizzes or tests to get valuable eLearning feedback. These responses will help you build knowledge checks. As a result, you'll have the opportunity to make your virtual courses even better. An expert content provider can help you with your training evaluation.
In conclusion, the virtual training content provider you'll choose to work with needs to have expertise in eLearning authoring tools, as well as deep topic knowledge. If you want to launch an eLearning mobile app or need to implement gamification, choose an eLearning company with expertise in these.
Evaluate And Compare eLearning Companies Before Kickstarting Your New Virtual Training Program
Training delivery is extremely important. The eLearning content experts that are going to bring your virtual training strategy to life have to identify any gaps within your teams. They should be able to make an accurate evaluation of the training needs of your learners. This will help ensure that your virtual training program brings the outcomes you desire.
For your eLearning content to have an impact and be relevant, the content provider you'll choose to work with needs to be top in training program design. There is a variety of online training delivery methods that you can choose. So choose wisely and always keep your goals in alignment with your desired learning outcomes. This is vital because each training type might have a different effect on your teams' performance.
eBook Release
Remote Work And Virtual Training In Aid Of Corporations Worldwide
Explore how launching a virtual training strategy will help you get your L&D program back on track when your workforce has to work from home.
Things To Consider Before Partnering Up With An eLearning Company
Their online training materials should be engaging
Research if they have expertise in the topic of your interest
You should ask for virtual training content samples
Consider exploring if they have case studies on successful projects
Check out if they've won any awards on their content delivery
Make sure to visit their website and ask for an online training strategy consultation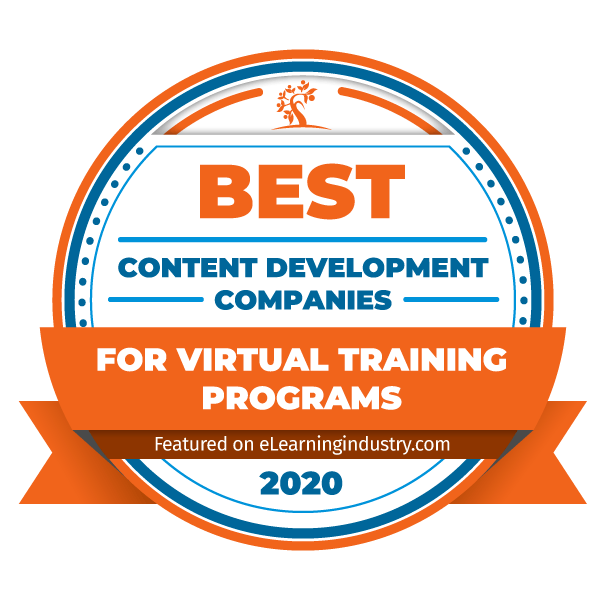 SweetRush's mission is to amplify the impact of their clients' organizations by helping them attract, motivate, engage, lead, develop, and retain their people so that they can make a positive impact on their bottom lines, their employees' lives, and the world. SweetRush partners with the world's most successful brands—including 29 humanitarian organizations—with a remarkable near-zero turnover of clients and employees. The company has been judged by many as the world's most innovative learning provider, resulting in an array of awards and accolades.
SweetRush is doing things differently, disrupting the industry by delivering unique and effective offerings for performance improvement, including leading-edge learning strategies (adaptive learning, interactive video, gamification, VR/AR, intelligent assistants), design thinking, culture transformation, and executive coaching. And they do so as a culture-forward organization with a heart; clients trust SweetRush and love its culture of caring and commitment. SweetRush's custom virtual training solutions blend Instructional Design with the creative arts and technology, delivering programs that are effective and speak authentically to learners.
To learn more about collaborating with them, you can read Sweetrush's customer reviews in eLearning Industry's directory.
Highlights
Custom virtual training solutions

Your challenge, business driver, audience, constraints, culture, and way of working are unique. SweetRush believes your virtual training solution should be, too. Often the best solution blends different learning modalities to reach and teach your audience in the right way, at the right time. SweetRush's Brandon Hall awards in 28 different categories speak to the breadth and depth of its capabilities, including eLearning, mobile learning, simulations, learning games, virtual classroom (VILT), remote coaching, and more.
Design thinking to create learner-centric programs

SweetRush has adapted and applied design thinking to virtual training design. SweetRush's CoDesign brings together stakeholders, SMEs, and actual learners with the project team for a collaborative design experience, resulting in a validated prototype and solution design that all parties are excited about. It saves time (30 days on average) and reduces risk (buy-in from the start). SweetRush recently launched Virtual CoDesign, enabling the same collaborative experience for remote teams!
Supporting a range of training needs: a company you can grow with

Sometimes you need fast, cost-effective, and simple training. Sometimes you need robust, innovative, and high-touch service. SweetRush can meet you where you are, understand your constraints, and take on your challenges.
Do you want to learn how Sweetrush can help you make a difference with your virtual training programs? From analysis to evaluation, mobile learning, eLearning, ILT and VILT, games and simulations, or videos and animation you can make your training content unique.
If you want your training content to help you boost performance and achieve success, all you have to do is explore their custom learning solutions.
CommLab India, a top rapid eLearning solutions expert, now offers high-quality virtual training services that include both ILT conversions as well as virtual training delivery on a variety of subjects. They leverage their decades of experience in classroom training, instructional and graphic design, and eLearning development with a formidable panel of virtual classroom trainers who can deliver high impact virtual training. Their rapid development expertise can economically convert your classroom material into eLearning as well as for virtual delivery. Their virtual programs cover basic, intermediate, and expert level training in Instructional Design, eLearning authoring tools, and MOODLE LMS.
Check the reviews submitted for Commlab India in our directory to see how it is to work with them.
Highlights
CommLab India is adjudged one of the top rapid eLearning solutions companies in the world. They help organizations deliver impactful virtual training by ensuring their digital solutions are firmly rooted in Instructional Design, which contributes to business results. They leverage their expertise in industry-standard eLearning authoring tools with excellent remote Project Management skills that deliver world-class virtual training quickly, economically, and effectively by following the Successive Approximation Method (SAM).
Rapid conversion of classroom training material into self-paced eLearning



Excellent instructional and visual design that contributes directly to business results
Highly engaging content, graphics, and interactive games
Performance learning objectives aligned with formative and summative assessments
Train-the-trainer for high impact virtual training (60 min self-learning)

 7 ways to apply appropriate instructional methods for the virtual classroom
 18 instructional capabilities and 10 limitations of the virtual classroom
 22 practical strategies that can create and sustain motivation and excitement
Virtual training programs at basic, intermediate and expert levels

Instructional Design: performance objectives, ID strategies, and assessment questions
eLearning authoring tools: Articulate Suite, Captivate, Lectora, dominKnow Flow
MOODLE LMS: installation, customization, and maintenance
Looking to maximize the impact in the virtual classroom? Master the art of how to design high-impact virtual training with Commlab!
For over 18 years, EI Design has partnered with their customers to successfully help them transition to virtual training. Their virtual training solutions portfolio includes:
ILT to VILT migration, while enriching the VILT session
Blended delivery: VILT and self-paced, online training (mobile learning)
Fully online with self-paced training/mobile learning
Adopt varied approaches (macrolearning/microlearning)
Opt for rapid/semi-custom/fully custom approaches
Pick immersive learning strategies like AR/VR, gamification, and scenario-based learning
Further value adds include:
Blending the VILT session with pre/post resources.
Repurposing the recorded VILT sessions into online microlearning nuggets. These are SCORM-wrapped for tracking.
You can learn more about EI Design's expertise in virtual training content by reading client reviews in our directory.
Highlights
Agile approach for high-impact virtual training
EI Design helps their customers work with a longer-term plan of virtual training to engage learners. They also have approaches to connect, reinforce, challenge, and nudge learners toward continuous learning. Through an Agile approach featuring rapid development and semi-custom/fully custom options, they offer:
ILT to VILT or blended or fully online courses for formal training
Learning resources that enable employees to do their job better, apply their learning, solve a problem, practice for proficiency gain, and so on.
The learning journey leverages:
Personalized training
Self-directed learning
Curation
Social and collaborative learning
EI Design's unique learning and performance ecosystem
In the learning journey, their focus is not just on training completion rates as a success indicator, instead, they track if the training is offering:
Effective learning and application on the job
Skill-building
Reducing the proficiency gap
Alongside, they work with customers to ascertain the following:


Training impact.
Measuring training effectiveness
Demonstrable value for the learners and the business
Positive ROI
Creating a triad value for customers
Their focus is on creating virtual training that generates the triad value by:
Creating sticky learning experiences
Enabling effective application on the job
Driving behavioral change
To make it simple, they have the means and expertise to create custom-made solutions just for you. Check them all out and contact EI Design for more information!
As a global leader in digital learning, Inno-Versity's in-house team of instructional and creative designers provide custom virtual training programs using methods such as microlearning, rapid development, Virtual Instructor-Led Training (VILT), and AR/VR/MR. They remove complexity from critical learning projects for some of the largest global brands. Their approach is unique in that they put learning first and weave return on learning into their entire process. For more information, look through the reviews for Inno-Versity in our directory.
Highlights
Full house/in-house

Their in-house team is trusted by some of the largest global brands to develop their virtual training programs and make the transition to working remotely.
Learning expertise

They help companies develop large, complex virtual training programs using methods such as gamification, microlearning, and immersive learning.
Measured return

From creation, to launch, to maturity, they help companies determine, track, and report the return on their learning investment.
Do you struggle with large, complex eLearning projects? Contact Inno-Versity and learn how you can remove complexity from your critical digital learning projects.
Infopro Learning is a full-service L&D organization with over 25 years of experience delivering engaging learning experiences around the world. Their solutions include leadership development, managed learning services, learning talent, learning technology as well as learning content. For all their solutions, including virtual training programs, they offer a white-glove experience. They can manage every component of your training program or help with a single component. Whether you need help with hosting, technology, registration, or talent, Infopro Learning has it all under one roof. To get a better idea about collaborating with them, you may want to look through the reviews for Infopro in our directory.
Highlights
For over 25 years, Infopro Learning has been helping organizations around the globe to deliver successful virtual training programs. They aim for the following in every project:
Improve performance

Their virtual training programs make an impact on the performance of learners by focusing on the business results they hope to accomplish with the training activity.
Meaningful learning experience

Virtual programs cannot replace the experience of classroom training, but with the right blend of digital assets and collaboration, they can maximize the engagement of the remote learner.
Sustainable operational excellence

They help bring efficiency to the design, development, and delivery of virtual programs with a dedicated team of learning professionals who can manage every component of a virtual training program (hosting, facilitation, registration, etc.).
Eager to learn more about how to empower your remote teams? Click here to get The Ultimate Toolkit For Remote Workforce Efficiency!
With more than 35 years of experience in Instructional Design and learning technology, AllenComm is an ideal partner for building virtual training solutions. Their teams are ready to support your business transformation by scaling training for large audiences with an extensive learning activity library and cloud-based platforms. Their rapid response services help clients quickly convert Instructor-led Training (ILT) events into Virtual ILT (VILT) or digital activities and deliver learning experiences that maintain collaboration and engagement. By focusing on conversion and making use of existing digital assets and processes, the solution can be implemented in as little as 1–5 weeks.
Look through customer reviews about working with AllenComm in our directory to learn how they help organizations build better training.
Rapid conversion of ILT content to digital assets

If you are looking for a rapid eLearning solution, AllenComm's team will scope and estimate projects within 1–2 days of receiving sample content.
ILT to VILT

Conversion of in-person training sessions into VILT sessions for Adobe Connect, GoToMeeting, WebEx, Zoom, and other applicable platforms.
Content management and distribution

Temporary content management and distribution sites which can schedule VILT sessions, host/distribute online content, and provide tracking.
Head to their website to learn more about ILT to virtual training conversion.
Obsidian Learning has been creating effective, business results-oriented, and fun-to-take virtual learning programs (VLP) for over two decades. Their custom approach to each client and project allows them to focus on key learning outcomes and facilitates the connection between the subject matter and the learner. They effectively employ the time-tested principles of blended learning and apply them to digital (virtual) environments. The learner engages with a variety of online learning offerings that symbiotically deliver the desired learning outcome.
The typical virtual learning program from Obsidian Learning might include:
Introductory video/animation

Communicates the all-important "why" of the program (impact on the bottom line, relevance to employees, etc.) and also serves as a vehicle to raise awareness about the learning initiative.
Series of microlearnings

Intuitively lays out the individual lessons as a cohesive curriculum and engages learning through relatively short, interactive, visually arresting learning modules.
Webinars

Establishes a virtual—yet still personal—connection with learners (if deemed necessary).
Additional digital learning assets

QRCs, QRGs, infographics, apps, etc.
Social learning communities

Structured online forums for learners to share their feedback, experiences, and stories.
If you want to learn more about working with them, take a look at clients' reviews for Obsidian Learning in eLearning Industry's directory.
Highlights
Obsidian applies 3 key principles when creating VLPs. They must be:
Intuitive and user-friendly

The learning is independent, and no one is there to guide the way. It is essential that VLPs be intuitive. A strongly visual layout of the individual aspects of their learning programs is a fundamental characteristic of their designs.
Distributed and trackable

Their custom approach allows a heightened understanding of the subject matter. In collaboration with SMEs, they propose specific, gradual sequences of learning deliverables. They distribute the learning over time to enhance the learning experience and flatten the forgetting curve.
Visual and remarkable

Their VLPs are distinctly visual. Their unique look and feel creates a visual association that improves recall and retention of the provided information.
Fun

They make sure your content and its curation is elevated from "training" to an "experience." They integrate gamification, social learning, ranking, and collaboration to tap into the innate curiosity, competitiveness, and playfulness of your learners.
If you want to discuss your learning and performance support challenges on how to create effective training, by all means, contact Obsidian Learning.
CoreAxis Consulting has been a leader in management consulting and eLearning for nearly two decades, empowering companies like Thermo Fisher Scientific and Amazon to enhance workforce effectiveness by translating core company competencies into engaging learning courses. Their award-winning team of experts is prepared to deliver immersive learning solutions, custom learning courses, tailored training sessions, and talent management, and will work with you to optimize content and delivery mediums to suit your needs.
The CoreAxis capabilities toolkit is expansive and includes digital learning, live and Virtual Instructor-Led Training, gamification, Augmented Reality, mobile learning, collaborative team spaces, and translation and localization services. Their team works with Subject Matter Experts at your organization to assess your virtual training needs, choose the right features to convey your learning content, and build a comprehensive program tailored to your needs that drives business results.
You can visit eLearning Industry's directory to check client reviews for CoreAxis.
Close collaboration

The CoreAxis team schedules kick-offs, working sessions, and standing status updates in order to build training programs iteratively and collaboratively with your team. Their agile process aligns the program design process with your standards and protocols, ensuring you are part of the process each step of the way so that expectations are met and you're satisfied with the final product.
Course delivery

Most companies suggest development tools based on your course content, but CoreAxis goes the extra mile. Once their team has aligned with yours on the course content and best training mediums, they build out the program for you using rapid content development technology to get you up and running as fast as possible.
Ongoing support

After their team has trained your organization on how to access and use the virtual training programs, their studio team is available to make ongoing changes and updates to all the curriculum and content that is developed based on your employees' experiences and feedback, allowing you to continue optimizing your company's Learning and Development.
Does CoreAxis sound like a good fit for your virtual training needs? Start a new project together!
Their learning solutions include the development of custom eLearning nuggets and learning games to support organizational L&D initiatives, along with helping SMEs and organizations develop digital aids and presentations for Virtual ILTs and webinars. For almost two decades, they have provided learning solutions to top companies and are experts in the development of microlearning or bite-sized learning, interactive learning material, engaging gamified courses, and adaptive learning journeys. Their team comprises talented and experienced professionals who provide solutions with a consultative approach, partnering with clients to develop the optimum learning blend.
You may check what customers have to say about collaborating with Aims Digital in our directory.
Highlights
Strong Instructional Design involvement

Their Instructional Design team ensures the content is presented in a structured manner, adhering to principles and best practices.
Appealing visual design

Their graphic designers ensure the designs are relevant, contemporary, and unique, making each training piece memorable.
Quality assurance

Their QA team checks every output thoroughly, ensuring every learning piece is bug-free and works flawlessly.
Cinecraft is a leading producer of custom learning solutions. They specialize in creating experiences that are performance-focused and learner-centric. In order to give you an example of what they can do for an organization, let's talk a bit about their collaboration with Hyatt Hotels.
Cinecraft Productions partnered up with Hyatt Hotels to develop the [email protected]: learn. practice. act. grow leadership program. Unfortunately, each location was conducting its own events and customizing the content, and they were not following up to provide continuous improvement. The goal of this project was to create one, consistent global experience to give Hyatt's leaders the tools they need and set expectations for their role, as well as provide ongoing continuous improvement.
Maybe you're facing similar challenges in your organization due to working remotely. Now is a good time to start a training program that fits the needs of your remote teams. Curious to learn more about working with them? Read customer reviews for Cinecraft in eLearning Industry's directory.
Highlights
The [email protected] program begins with a welcome video from 3 executives. Each leader talks about how they lead with purpose, a leadership competency at Hyatt, and how they expect the new leaders to do the same. Next, learners are invited to a Virtual Instructor-Led session. During this session, they get to know other new leaders, review Hyatt's leadership profile, and learn expectations for the [email protected] program.
Expectations are centered on 4 components (based on the above example with Hyatt):
Learn

Online micro-courses, articles, and videos related to a competency
Practice

Apply what learners have learned in role-plays with their manager and complete a reflection activity
Act

Incorporate the learning into learners' daily work through on-the-job activities
Grow

Engage in additional courses, articles, and videos to expand learners' skillset even further
Visit Cinecraft's website for some of their work samples and to contact them.
At Curious Lion, they are passionate about creating meaningful custom virtual training programs using a blended approach of video, print, and online facilitation. To achieve this they take pride in spending however long it takes to understand your business, not just your training needs. For your company to grow and be successful, your culture matters. Your way of doing things makes the difference in your market. Your virtual training should reflect that. Their clients highlight that working with Curious Lion feels different. Curious Lion combines 10+ years of working for a global consulting firm with a passion for helping people reach their potential while having fun, Andrew and his team are like your ghostwriter. You stay in the spotlight while they support you behind the scenes by scaling your virtual training.
Read customer reviews for Curious Lion in our eLearning niche directory.
Highlights
Custom pre- and post- virtual session learning

They helped a San Francisco-based tech firm scale their learning to meet the demands of their hyper-growth business by capturing the essence of their live sessions and developing a 6-episode animated learning series to pre-train participants on concepts, so they could focus on application in live sessions.
Agile virtual learning development

COVID-19 forced their client to rethink their Learning Week on the fly. They were able to build, deliver, measure, learn, and repeat through a series of 5 topics to create slick pre-session micro-videos and post-session checklists for new manager fundamentals training.
Scaling virtual training programs

To meet the demands of a growing business and a move to remote learning, they helped their client create facilitator guides and a train-the-trainer to upskill HRBPs on manager training, ensuring quality by testing the sessions on pilot groups before the larger rollout.
If you need to make training better for your remote teams, head to Curious Lion's website to learn more about their eLearning solutions!
Find The Ideal Content Provider To Kickstart Your Virtual Training Program
Save time and money. Compare top virtual training content providers by topic expertise, reviews, and rating!
Next Steps After Checking Out eLearning Industry's Top Virtual Training Content Providers List
Take time to research each of these eLearning companies for your virtual training content development. The more thorough your research, the better chances you've got to find the ideal virtual training content provider. Decide on the one that meets your online training objectives without exceeding your budget. The above is essential in order to equip your employees with the knowledge and skills they need to get the job done. If you are interested to find, choose, and compare top eLearning vendors for specific types of training, simply check out eLearning Industry's directory.
Are you still unsure about which eLearning content provider is ideal for you? Read the 7 Tips To Accurately Calculate eLearning Content Development Costs. It will help you choose the best eLearning company to partner up based on your budget and online training expectations.
For an LMS consultation tailored to your needs, don't hesitate to contact us. Our LMS matching process is very simple. With only 5 steps, you can find the Learning Management System that works best for you.
Last but not least, if you are an eLearning content provider, you are more than welcome to create a free listing on eLearning Industry!