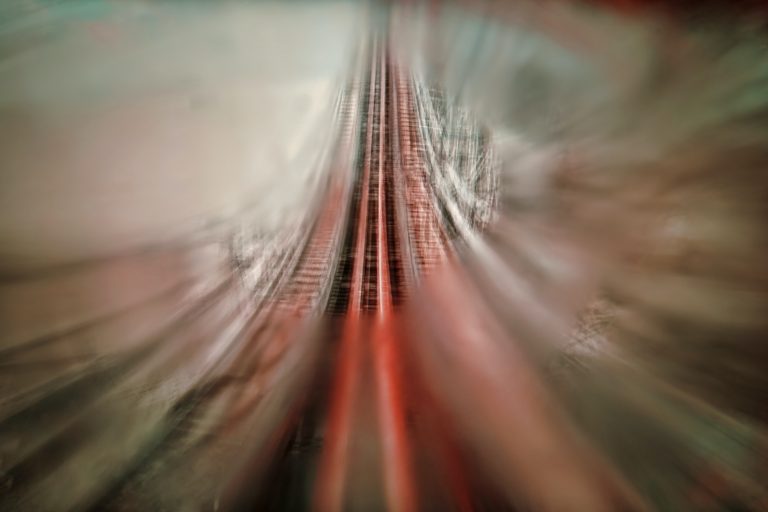 EMERGING TECH
Seven technologies and trends the COVID-19 pandemic will accelerate
Crisis plants the seeds of ingenuity, and as the world struggles out of the COVID-19 pandemic and into an unknown new normal, it's clear that entire industries will be transformed by innovations that have emerged to combat the disease.
Store closures may accelerate in the retail industry, which was already reeling, but new e-commerce applications could fundamentally remake online retailing. Software is emerging to enable sales professionals who can no longer meet with customers to conduct business remotely and asynchronously. The business travel industry may be in for a long drought, but videoconferencing, augmented reality and collaboration platforms will flourish. And health care, a perennial laggard in technology-driven transformation, has just been rocketed into the future.
One thing nearly everyone agrees is that the march toward "digital transformation," a buzzy term for realigning decision-making and customer relations around digital tools, will accelerate as businesses have been forced to make the rapid switch to digital tools.
"Software that used to take months or years to develop is being deployed in days and weeks," said Ben Stein, general manager of developer experience at Twilio Inc. "Even companies that hadn't planned to undergo digital transformation are viewing this period as a proof of concept."
"COVID-19 is quickly making the future the present," agreed Ben Pring, head of the Center for the Future of Work at Cognizant Technology Solutions Corp. and author of a recent report entitled "After the Virus."
Forrester Research Inc. is readying a report on hot technology areas that have emerged during the COVID-19 crisis and has identified four key categories that will receive significant new investment, according to Stephen Powers, a Forrester vice president and group director:
Risk/crisis management related to managing businesses, employees, suppliers and partners;
Customer experience technologies such as chatbots, customer feedback systems and contact centers;
Health and safety technologies such as contact tracing and surveillance; and
Employee experience and human capital management tools such as content platforms, contract lifecycle management videoconferencing and human capital management.
Although these trends were already well under way before the pandemic hit, "the crisis will accelerate what would have happened anyway," said Rob Thomas, senior vice president of IBM Corp.'s Cloud and Data Platform.
IBM's Thomas: "The crisis will accelerate what would have happened anyway." Photo: SiliconANGLE
It's well-understood that cloud and conferencing platforms will be the big winners coming out of the pandemic, but more subtle changes are lurking as well. SiliconANGLE asked executives from a variety of technology companies what other trends and technologies are likely to be forever transformed by the events of recent months. Here are a few they identified that are not making headlines – yet:
1. Low-code/no-code software development
The need for speed has been paramount as developers have raced to get new applications to market. Low-code/no-code development platforms, which use visual components and drag-and-drop construction to build software quickly, were already on the fast track before the pandemic set in. Forrester last year forecast that the low-code market will grow 40% annually to $21.2 billion by 2022. Gartner estimates that low-code tools will be used for 65% of all application development by 2024.
AirDev LLC built an application for a Scottish restaurant chain that replaces table-side waitstaff interactions with mobile ordering. The software was built using Bubble Group Inc.'s Bubble no-code development environment in less than a week, said AirDev Chief Executive Officer Andrew Haller.
"Most of our apps are coming together in somewhere between one and four weeks compared to three to six months" using conventional programming languages, he said. "Clients are cutting budgets but also trying to solve problems they didn't have before."
VantIQ Inc., maker of an event-driven rapid application platform, has seen "big growth in opportunities related to safety and security," said CEO Marty Sprinzen. For example, VantIQ partner Bits In Glass Inc. is developing a social distancing app for retail stores that enables customers to make reservations so shoppers don't have to wait in long lines. Chinese partner Inesa Co. Ltd. is building a smart elevator application to track social health metrics for elevator occupants, and another Singapore-based partner is working on an application that provides risk management, quarantine management, tracking and smart routing of people in hospitals.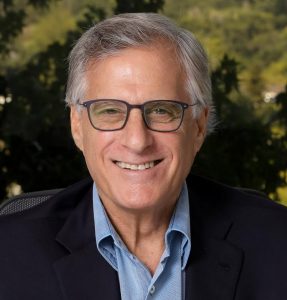 Vantiq's Sprinzen: Pandemic has driven 'big growth in opportunities related to safety and security." Photo: Vantiq
Sprinzen said applications to monitor the movement of people have seen "the fastest-growing demand of any segment I've ever seen." The company has more than 30 customers who are building applications related to space management or contact tracing, he said.
Appian Corp. used its own low-code platform to build and launch three applications in two months to help businesses cope with the crisis, including Workforce Safety and Readiness, a product that helps organizations safely return people to the workplace. "Low-code technology allows you to adapt and meet demands as they unfold," said Appian CEO Matt Calkins.
The City of San Antonio, Texas, used a low-code platform from Mendix Tech BV to accelerate the processing of applications for rental, mortgage, utility and relocation assistance. Low-code development enabled to developers to build the application in 12 days. Residents applied for $2.2 million in aid from their phones or computers in the first week.
2. Digital retailing
Long lines and empty shelves in retail stores drove millions of people to online merchants for goods they have never before purchased in cyberspace. A Forrester survey of 1,122 online adults in April found that 21% said they've bought groceries online for the first time and 41% are buying more things online than they have in the past,  said Fiona Swerdlow, a Forrester research director.
Chain stores in the U.S. and Canada saw an 80% increase in online sales in April compared with a year earlier, year-on-year rise in online sales in April 2020, according to Bluecore Inc. The number of first-time purchases on traditional retailers' e-commerce sites jumped 119%.  A recent survey of 150 senior executives from midsized and large companies by business consultancy West Monroe Partners LLC found that one-third are setting up "significantly new digital/e-commerce capabilities" in response to the pandemic, making it by far the most common action being undertaken.
But if COVID-19 has put shopping malls in a temporary coma, that doesn't mean conventional retailing is dead. "Retail has evolved and been resilient in the face of change for an awfully long time," said Swerdlow, noting that 45% survey respondents said they "hope to resume normal shopping habits soon."
That means retailers are preparing for a hybrid future that combines both virtual and physical elements. For one thing, COVID-19 is likely to accelerate innovations in "touchless" shopping, ranging from Amazon.com Inc.'s cashier-less grocery store to technologies that enable consumers to scan bar codes for batch delivery instead of picking items off a shelf. While that technology has existed for some time, the pandemic will drive widespread adoption. "You're seeing an acceleration of things that would have happened anyway such as using digital payments," said Ali Ghodsi, CEO of Databricks Inc.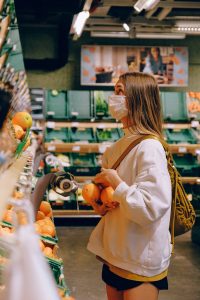 Retailers are preparing for a radically altered shopping experience. Photo: Pexels
Retailers also need to rethink their space needs to accommodate multiple means of delivery. "We have already begun to see it with the expansion of order-ahead and BOPIS (buy online, pick up in store), but that will quickly shift from a nice-to-have service to an expectation," retail strategist Melissa Gonzalez said in an interview with PSFK. "Store design as a whole will need to reconceptualize how brick-and-mortar stores serve multiple purposes for consumers."
Applications are also emerging that deliver a human touch without the touching. "Companies are investing more in building one-on-one relationships on websites that they would have done previously in stores," said Dries Buytaert, chief technology officer at Acquia Inc., a company that provides software and services based on the open-source Drupal content management platform.
Powerfront Inc., maker of a chat and live messaging platform for online retailers, accelerated development of its Video Assistant feature, which enables staffers to offer customer assistance and product demonstrations to customer remotely, in response to a sudden surge in demand. "Closing stores has been a shock," said Powerfront CEO Hadar Paz. "Retailers have to think more about how to sell without having stores," such as hosting online virtual showrooms with curbside pickup. "They need something in between an online and physical visit."
Retailers will also need to manage the opening and closing of physical facilities at a granular level if new hotspots erupt. Tibco Software Inc.'s Spotfire analytics software, which predicts imminent and future pandemic locations using real-time data, has been a hot item with merchants of late, said Michael O'Connell, Tibco's chief analytics officer. "The local hotspot analysis has been particularly popular for applications such as sequencing retail store re-openings," he said.
With retail sales nosediving 16.4% in the U.S. in April, merchants are also expected to turn up the volume on their data analytics to understand customer buying patterns better. "The problem set has changed," said Soudip Chowdhury, CEO of Eugenie.ai a subsidiary of Fractal Analytics Inc. His company sells a machine learning-powered platform that identifies the root cause of anomalies in operational data. "They want to know how the pandemic has affected buying patterns and how their promotion and supply chain strategy should change."
3. Chatbots and robots
Chatbots and other humanlike information aids have been picking up the slack at call centers decimated by absences and disease, with notable success. Among recent converts are the World Health Organization and Centers for Disease Control, both of which have adopted chatbots to field millions of queries. Many government websites are doing the same thing.
Research and Markets Ltd. expects the global chatbot market to grow nearly 30% annually to $9.4 billion by 2024, but some people believe those numbers are pessimistic given the new applications the technology is finding. Currently used mostly to get quick answers to common questions or to resolve complaints, chatbot technology is likely to expand into new areas, wrote Venkataraman Sundareswaran and Kay Firth-Butterfield of the World Economic Forum.
In the post-pandemic world, chatbots "are likely to become digital portals for interactive healthcare, helping patients find a doctor or service, schedule appointments, facilitate symptom checking, conduct triage in emergency care, prepare for procedures and follow post-discharge instructions," they wrote. Adoption will be hastened by the speed with which digital assistants can be incorporated websites by tapping into public application programming interfaces, "giving organizations the ability to integrate core communication channels like video, voice, chat, and SMS into their customer experience and scaling them overnight," said Twilio's Stein.
Robots are expected to become more common in factories to enable social distancing Photo: Wikimedia Commons
The difficulty companies have had in hiring for low-level jobs in risky environments like warehouses and retail stores will fuel an already accelerating investment trend in robotics that Mordor Intelligence LLP expects will see the $39.7 billion market grow 25% annually through 2025. "Post-COVID it will be a lot easier to get a bank to give you money to invest in a robot than to hire four or five more people," said Cognizant's Pring. He expects robotics will increasingly type, keep calendars, answer phones and handle other administrative tasks so humans don't have to do those things in an office.
Amazon, which said in March that it needed to hire 100,000 people to cope with COVID-driven e-commerce demand, made its second acquisition of a robotics company last year, buying autonomous vehicle developer Canvas Technology LLC. The company has already deployed thousands of robots from its 2012 acquisition of Kiva Systems Inc. in its warehouses. Amazon is also experimenting with autonomous vehicles and drones to feed its vast distribution network.
Wal-Mart Stores Inc. is using robots to scrub floors and McDonald's Corp. has been experimenting with burger-flipping automatons. Robots in South Korea have been used to measure temperatures and distribute hand sanitizer. JD Logistics, a subsidiary of Chinese e-commerce giant JD.com, used autonomous vehicles to deliver packages to hospitals in Wuhan without physical contact during the outbreak. The robots used facial recognition technology to validate the identity of recipients before delivering the packages.
"People will prefer to go to a place that has fewer workers and more machines because they feel they can lower overall risk," futurist Martin Ford told the BBC.
4. Telemedicine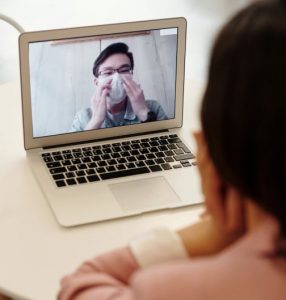 COVID-19 is expected to spur adoption of remote telemedicine Photo: Pexels
Telehealth, or the remote delivery of healthcare services, was already in line to become a $130 billion market by 2025. With some online services reporting up to a 500% increase in usage during the pandemic, it appears that digital healthcare will go mainstream even faster than expected. "A virtual consult will be the first resort and an in-person consult the last," said Cognizant's Pring.
Healthcare software company Epic Systems Corp. built its own telehealth platform using Twilio's Programmable Video platform in a few weeks. It enables providers to launch a video visit with a patient, review relevant patient history and update clinical documentation directly within the Epic application. "COVID-19 is forcing industries to figure out how to engage with their customers without seeing them in-person, and to implement these new solutions at unprecedented speeds," said Twilio's Stein.
Medical software firm Heal Inc. is rolling out a new service that will enable California residents to chat by video with a licensed clinical psychologist for $69 for a 20-minute session. Rhode Island-based DataGenius Technologies LLC hastily extended its My Vitals mobile app for secure sharing of medical information to add a video component for its May 10 launch. "Digital sharing and digital connectivity are now inherent to what people want to do," said co-founder Amar Verma. Videoconferencing is a feature "we wouldn't have thought of a year ago."
Vecna Technologies Inc. has seen a surge of interest in its new mobile app for patient intake and online registration that automates much of the paperwork and scheduling that previously required face-to-face interaction. "Healthcare used to be a high-touch field with a lot of personal interaction, but now it's looking like touchless has become almost a necessity," said CEO Debbie Theobald. "Telemedicine has really taken off."
And healthcare is unlikely to return to its low-tech past. Forced virtual consultations during COVID-19 have demonstrated to clinicians that patient care doesn't have to be high-touch to be highly effective, said Christopher Palmieri, CEO of Commonwealth Care Alliance, a Massachusetts-based not-for-profit, community-based healthcare organization. Just as important is that the Federal government has been expanding Medicare coverage for telehealth services. "The pandemic will go but the tools will stay," he said.
5. Open software
Although open-source licensing has been around for more than 30 years, adoption tends to surge during crises. That's partly thanks to its lower cost, but the bigger driver is speed because community development gets code built more quickly, said Acquia's Buytaert. "Open source lets you do more with less," he said. "Development is faster and you don't have to risk as much financially."
Open-source components combined with the free software licenses and cloud computing accounts that many vendors have made available during the pandemic are unleashing a flood of applications for everything from contact tracing to viral research. Github lists more than 27,000 repositories of open-source projects related to COVID-19. They include Coronavirus Tracker, which presents visualizations of the global outbreak using an open data repository maintained by Johns Hopkins University, and COVID-19 Scenarios, an analytics dashboard for modeling outbreak trajectories and hospital demand.
London-based user interface designer Michele Memoli built an app for anonymous contact tracing in his spare time and open sourced it on GitHub. The app automates logging of contact information, notifies people in a family or group if someone falls ill and calculates risk levels based on contacts users have made, while preserving privacy.
Built on a budget of zero, the software uses a graph database backend donated by Neo4j Inc. and a free web hosting account from Digital Ocean Inc. Memoli wrote the base code on the Gatsby.js open-source framework with Neo4j's GraphQL and Cypher query languages. He posted the project in a Slack channel and about a dozen contributors have jumped in to help. "I never thought about commercial potential," he said.
Open-source code and global collaboration brought the project together in just a few weeks. "The role I played switched from writing software to managing teams of developers and the community," he said. "People's generosity has blown me away a bit."
Tech firms have been aggressive about offering limited free and low-cost access to their cloud products, fueled by a combination of magnanimity and a quest for free publicity. Postman Inc., which markets an API development environment, for instance, has assembled a large list of databases that developers can plug into. IBM released a version of its IBM Watson Assistant for Citizens specifically addressed at COVID-19 inquiries and is working with numerous government organizations on custom implementations.
That's not all. Speech recognition software developer Deepgram Inc. donated $1 million worth of automatic speech recognition to healthcare providers to use over the next year. Google LLC is making a hosted repository of pandemic-related public datasets available for free on its cloud platform for querying and machine language training. Amazon Web Services Inc. has a similar resource, as does Microsoft Corp.
6. Zero-trust security
The hottest topic in cybersecurity before the pandemic began may emerge as the new standard for enterprise data protection. Zero-trust security upends traditional perimeter defenses by assuming that nobody and nothing can be trusted. Devices and users must provide additional proof of identity as they access increasingly sensitive information, even if they're already logged on to the network.
With millions of people connecting to business networks from home using equipment that is unknown to their IT organizations, many enterprises are currently rolling the dice on cybersecurity. A zero-trust approach provides an added layer of protection against unknown visitors. It can also help guard against flaws in the many new applications that are being rushed into production to deal with the pandemic without the usual security rigor.
"The ramifications of 'panic development' are typically sloppily written code and a relinquishing of consumer privacy in favor of addressing broader community safety," said Bil Harmer,  chief information security officer and chief evangelist at SecureAuth Corp. an identity management company that is making its services free on a selective basis through Dec. 15.
Numerous studies have documented increases in COVID-related attacks over the past two months as assailants try to exploit holes in business networks left by overstressed security administrators. McAfee LLC reported a 50% jump in the number of internet-exposed Remote Desktop Protocol ports, which permit external access to a network.
"It is very likely that many organizations brought systems online quickly with minimal security checks in place, giving attackers the opportunity to enter them with ease," wrote McAfee security researcher Thomas Roccia. Barracuda Networks Inc. said it saw a 667% spike in COVID-related phishing attacks in March compared with February.
Interest in zero-trust tactics was already growing before the virus hit. A survey by Pulse Secure LLC found that while only 4% of enterprises have already implemented the network segmentation and multifactor authentication practices zero trust demands, 69% plan to do so in the future. Earlier this month, Okta Inc. reported 275% year-over-year growth in the number of North American organizations that have or are planning to have a zero-trust initiative on the books with 18 months and said that 60% of North American organizations are actively working on zero-trust projects.
Numerous security software companies have made federated access offerings – which are an essential zero-trust component – available free for limited time during the lockdown. "Virtual private networks are not going to work at this scale, so [businesses] should be taking advantage of these offerings and, if nothing else, use them for pilot purpose," Forrester security analyst Chase Cunningham told CSO Online.
7. Next-generation databases
The tools to track and contain the virus all have one thing in common: massive appetites for data. Applications such as contact tracing are fueling demand for new database engines capable of working at massive scale. Interest is particularly high in graph databases, which are uniquely well-suited to tracking relationships. The graph analytics market will double annually for at least the next two years, Gartner said in early 2019, "due to the need to ask complex questions across complex data, which is not always practical or even possible at scale using SQL queries."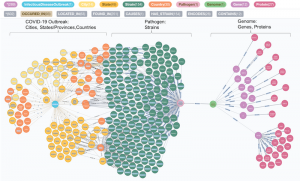 Epidemic Simulator is a graph database application that models an epidemic spreading through the social connections. Image: Neo4j Inc.
Graph engine developer Neo4j Inc. built COVID-19-Community, a crowdsourced contact tracing application that uses cell phone tracking to make a quick identification of users who have entered a hotspot as well as to alert health professionals. An application developed for the company's annual Graphs4Good GraphHack called Project Domino monitors COVID-19 Twitter posts to flag scams, track clinical disinformation and eventually help policy makers understand behavior compliance and noncompliance across demographics and regions.
Competitor TigerGraph Inc. is offering a free kit to government and health officials that comes with a sample dataset, schema and queries that can be used to detect hubs of infection and track the movements of potential spreaders.
The pandemic is also fueling demand for real-time and so-called "translytical" database engines, which can perform analytical calculations on production data without requiring time-consuming extracts. For example, the Institute for Health Metrics and Evaluation used the open-source MariaDB cloud database to collect from MariaDB Corp. to process tens of terabytes of data on COVID-19-related disability and death statistics.
"We're seeing how important it is to have analytics in real-time," said Rob Hedgpeth, a MariaDB developer evangelist. "We can't wait for it anymore."
All in the cloud
And continuing a trend that was already well along, much of the action will be in the cloud, where long installation and configuration times aren't nearly as much of an issue as they are in a data center. Gartner has predicted that 75% of all enterprise databases will be deployed on or migrated to a cloud platform by 2022 and cloud data management firms say demand has been unprecedented since March.
Along with availability and scalability benefits, cloud platforms also have the benefit of global reach, noted Clemens Mewald, director of product management for machine learning and data science at analytics software provider Databricks. "We're seeing that data is important across countries and more and more software products will cater to those cross-border needs," he said. "Insights based on data are more valuable if you have all of your data in the same place."
Echoing her colleague Rob Thomas' observation that crisis accelerates trends that were already in place, IBM Cloud Chief Technology Officer Hillery Hunter told of one customer who recently told her he's transferring all enterprise development to cloud platforms.
"Two months ago he'd have said it's a strategic question," said Hunter. "Now it is an existential question."
---
Since you're here …
Show your support for our mission with our one-click subscription to our YouTube channel (below). The more subscribers we have, the more YouTube will suggest relevant enterprise and emerging technology content to you. Thanks!
Support our mission:    >>>>>>  SUBSCRIBE NOW >>>>>>  to our YouTube channel.
… We'd also like to tell you about our mission and how you can help us fulfill it. SiliconANGLE Media Inc.'s business model is based on the intrinsic value of the content, not advertising. Unlike many online publications, we don't have a paywall or run banner advertising, because we want to keep our journalism open, without influence or the need to chase traffic.The journalism, reporting and commentary on SiliconANGLE — along with live, unscripted video from our Silicon Valley studio and globe-trotting video teams at theCUBE — take a lot of hard work, time and money. Keeping the quality high requires the support of sponsors who are aligned with our vision of ad-free journalism content.
If you like the reporting, video interviews and other ad-free content here, please take a moment to check out a sample of the video content supported by our sponsors, tweet your support, and keep coming back to SiliconANGLE.